Around Thanksgiving several years ago, I saw a movie called "Food, Inc." which depicted the horrors of government-supported, monopolized food production and its ill effects on people. As my wife and I watched this controversial documentary in awe and disbelief, we concluded that we must learn to grow our own food. And so, during that winter we studied and carefully planned where and how we would build our organic garden. We educated ourselves on what to do and strategized the layout of plants and the best time to start sowing the seeds.
I tell you this story because I realized that all of the items needed to build and grow an organic garden are metaphorically similar to building and maintaining a brand. Here's why: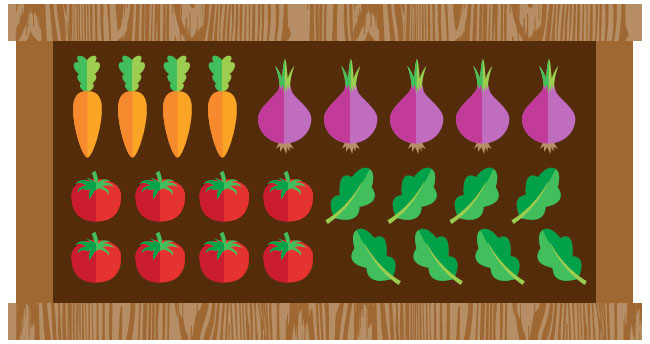 Performing Research for Your Brand
Before going full steam ahead with a garden or a brand, you have to take a deep breath and develop a plan for where you want it to go. Researching opportunities in your market and understanding how your brand can best stand out from your competitors is critical; just as understanding the best plants to grow in your climate zone. Performing a SWOT (strengths, weaknesses, opportunities, threats) analysis in the beginning can help focus and move your strategy in the right direction.


Strategically Planning Your Brand
When we planned the garden, we realized that we needed to allow proper spacing between plants and walkways as well as needing a fence to prevent deer, raccoons, and chipmunks from eating our precious crop. When developing a brand, strategic thinking is necessary so mission and vision statements are created properly as well as the language which will be used to communicate effectively with your customers and target audiences. Strategy will help you take advantage of the SWOT analysis and allow your brand to have a unique position in the marketplace — allowing your business to stand out from competitors.

Cultivating Your Brand Identity
Building a brand identity can be compared to preparing your garden's soil. And your garden may be prone to low-yield or invasive insects if the soil is not prepared correctly, just like a team of bad consultants could erode the integrity of your brand before you even open the doors. While your brand identity (look and feel) is being established, make sure it accurately reflects upon your research and strategy and echoes your mission and vision statements. This will assure your visual brand gets off to a good start. It's up to you then to nurture it and make it grow.

Planting the Seeds of Effective Collateral
Planting seeds at the correct depth, spacing, temperature and quantity is of utmost importance. This is really a perfect metaphor for the quality and consistency of the brochures, advertisements, website and any other marketing materials created and designed for your brand; and how closely they visually reflect the quality of the messaging behind them. Overall brand messaging should be consistent so as not to confuse the customer; and it should educate and help guide them toward purchasing your product or service.

Monitoring and Supporting Your Brand
As things progress in a garden, you will likely need to support plants, prune them and monitor them for insects or disease to increase the chances of a plentiful crop. In managing a brand, you will need to make necessary adjustments in response to trends or events in the marketplace. Adjustments will help your brand stay relevant and to become more bountiful.


Evaluating Your Brand for the Sake of Better Growth
When analyzing the fruits of your labor, you may come across a time when serious evaluation is needed. Just like gardening, you'll learn a lot about your brand from your past performance. An analysis at regular intervals will help identify changes that are necessary for a prosperous future.
Next Steps for Your Brand to Blossom
So as you prepare yourself for the branding process, careful and thoughtful planning must occur along with great design and proper execution. If you need help building or improving your brand, or have branding questions you would like to ask us, give us a call at 908.219.4703 or use our simple contact form and we will reply promptly.