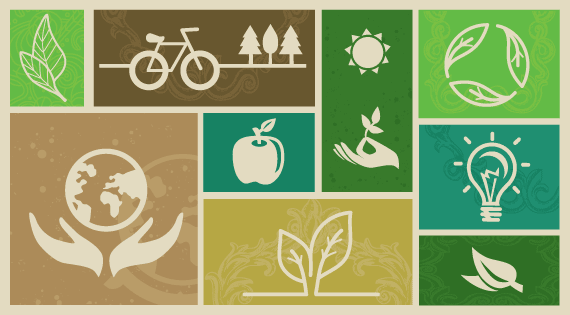 Lou Leonardis, Partner at Trillion recently participated as a guest panelist at the Modern Marketing Expo at Montclair State University. This is a one-day conference helping students prepare for their careers in marketing, public relations and graphic design. Eco-responsibility was a hot topic among the students and is instilled in the minds of our future workforce. It serves as a reminder of how important it is to recognize and participate in Earth Day—an annual event, celebrated every April 22, to demonstrate support for environmental protection.
Over the years our clients have asked us to design environmentally friendly brochures, stationery, mailers, promotional pieces and more. To ensure the greenest product possible, we take additional considerations when designing with sustainability and Mother Nature in mind including carefully selecting papers, inks, materials, our print vendors and more.
To recognize the importance of being friendly to our environment for Earth Day and beyond, here are 22 ways that a graphic designer (and Trillion) helps the cause:
Ensure your website hosting company is using green energy such as wind power to keep your servers humming along.
Create smaller-sized, more effective designs to reduce the volume of paper used to reach your audience. Click here to see an example that saved a client thousands in postage!
Consider the fonts used in a design. Helvetica bold will use more toner and ink to print. A recent study revealed that the government could save hundreds of millions of dollars per year by changing the font that utilize from Helvetica to Garamond (Further investigation found the numbers to be exaggerated).
Use white space in a design so there is less ink to print on the paper. Click here to see what we did for Wharton Business School.
Avoid papers which use an abundance of chlorine such as high brightness paper or, surprisingly, white paper with a very high recycled content (lots of chlorine and chemicals are used to get them that way).
Utilize a Forest Stewardship Council (FSC) certified print vendor. They meet the most rigorous, credible certification system in promoting standards for responsible forest management regarding their paper use.
Avoid using metallic inks and foil stamping as these materials cannot be recycled.
Confirm what size press sheet your project will be utilizing. This will minimize waste and maximize the size you can make your postcard design, brochure design or other project you are printing.
Use rechargeable batteries in your wireless mouse and keyboard.
Utilize paper that includes some post-consumer-waste. This paper contains recycled content.
Take advantage of a monitor calibration system such as Pantone's Huey Pro. This small device sits on your desk and measures the ambient light in the room and adjusts your monitor's brightness levels. This could save energy by working in a more dimly lit office without sacrificing color accuracy.
Utilize old printed samples to reprint on, especially for an Earth Day promotion.
Show proofs to clients as pdfs, not printed on paper. We do like our clients to see the first round of designs in a printed format so monitor color inconsistencies do not interfere with colors our clients are expecting in the finished printed pieces.
Use both sides of any paper printed in your office.
Use mass transportation or a bicycle to commute to work.
Utilize Energy Star rated computer monitors.
Properly recycle your old laptops and computers by taking advantage of e-waste recycling programs.
Utilize print vendors who are local to the delivery area so materials do not need to travel far to their final destination.
Recycle all un-used paper.
Use energy efficient LED light bulbs in your office.
Unsubscribe to unnecessary junk mail and catalogs and save some trees through a free service such as TrustedId Mail Preference Service.
Utilize soy- and water-based printing inks. Most printers are not using petroleum-based printing inks anymore but confirm with your print vendor.
If your business considers being friendly to Mother Nature a priority, Trillion can maximize your efforts by designing marketing communications that are as green as can be. All you need to do is give us a call at 908.219.4703 or complete our contact form here and we will reply to your message promptly.