Are your closest competitors winning new business because they look and sound more relevant to prospects than you do? Do you fear that prospects are not connecting with your brand – in fact, is it likely they are totally missing the "who you are" and "what you do" which helps set you apart from your competitors? If either of these questions hit close to home, chances are good that your company is a prime candidate for an in-depth review of your brand. In the following paragraphs we'll discuss what you can expect from the rebranding process and why now may be a good time for you to take advantage of the many benefits rebranding can offer your business.
Every brand behaves in a certain way, delivers an experience and achieves a result.
For a CMO or executive, the rebranding process can be stressful in many ways. However, if the process is undertaken by an experienced and talented branding partner who can offer the required research, planning, care and attention, there will be many positive rewards in the end. For one thing, if properly announced and promoted, lots of eyes will be on your brand creating numerous new business opportunities for your company. If you are contemplating rebranding your business (and we assume that you are if you've read this far!), there are a number of questions that you are likely contemplating, especially if you haven't gone through the rebranding process before. For example:
How much will the rebranding process cost?
How many internal resources will need to be dedicated to the process?
How long will rebranding take?
How can I measure my ROI after rebranding?
These are just a few of the valid questions Trillion can answer for you. In addition, below are the top 4 questions we are asked by CMOs and executives when they are considering rebranding their company.
How to Start the Rebranding Process?
The rebranding process needs to commence at the heart of whatever it is your business does. If your brand's mission and vision statements still hold true to who you are and what you do, but your brand's graphic identity has lost its connection to what is relevant to consumers in today's marketplace, you may only need to adjust the look and feel of your visual identity. A brand audit is a great place to start. Among many other things, a brand audit will review all of your marketing materials including printed brochures, advertisements, social media and websites, and reveal any inconsistencies that may be impacting how your brand relates to your customers.
If your company has grown, shifted its market position or merged with another, you should consider conducting a SWOT analysis (strengths, weaknesses, opportunities, threats) and hire an independent third party to interview clients, employees and key stake holders to help paint an accurate picture of how your brand is perceived by all. These findings often yield surprising results that can be leveraged into the rebrand and provide unique value propositions for your company.
How to Stay Connected to Your Existing Brand?
If your brand hasn't made any updates or adjustments for many years, it's not unusual to be sensitive to change. Certainly, drastic departures can quickly confuse customers and generate a whole slew of problems that can have a negative impact. That's why careful consideration should be given to any adjustments in colors, logos, and methods of communicating with your customers. Looking at the rebrand as an evolution of the brand is, many times, the best approach. Taking into account the findings of the interview and SWOT analysis, you can make educated decisions on how and where to position the rebrand.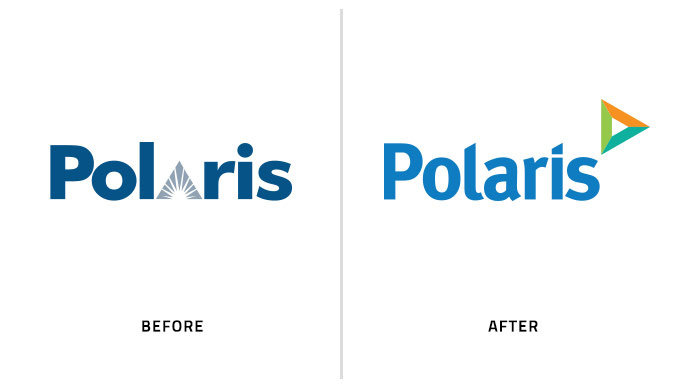 For example, Polaris' brand identity hadn't changed in over 10 years but the company grew significantly in a decade's time. The original logo (shown above) was developed by the founder and had symbolic meaning behind it. The company was directly attached to the logo for many reasons. When it came time to rebrand, the client recognized that the logo and the colors needed to be modified in order to help the software technology company appear more relevant to prospects and potential employees.
In our redesigned logo, we kept the symbolic qualities of the triangular "Polaris" star—also known as the vital tool for navigation. We used the triangle rotated in a new way that helped point in a forward direction and helped represent the business units. A brighter color palette and updated typography brought a more friendly personality to the new logo while keeping all of the symbolism behind the old version. The letters in the new logo are taller and slimmer to help project the brand's personality. When we add this logo design to all of the other strategic branding initiatives, Polaris is able to reinforce key brand messaging to their prospects and employees—bringing major value to the table. The updated branding not only refreshed the visual identity of the company, but it also invigorated the company culture and caught the eyes of tech job candidates, positioning Polaris for continued aggressive growth for the coming years, and beyond.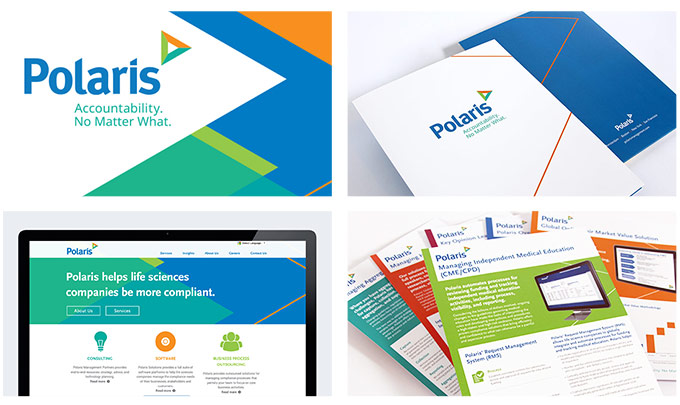 How to Select the Best Team to Enact Your Rebrand
Making sure you choose the right experts to rebrand your company is a critically important decision. There are several key factors that should be carefully examined so that the process goes smoothly and you achieve the best results. The American Marketing Association's Top 10 Criteria to Consider When Evaluating Your Advertising Agency, which is a great guide, outlines the key things you should be examining before hiring a team to rebrand your company:
Talent and functional expertise: do they offer the depth in their team to execute the project?
Relevant industry expertise: have they worked in your industry and are familiar with industry nuances?
Creativity: is their portfolio displaying work and case studies you admire?
Cultural fit: does the team share similar values and seem easy to work with?
If you begin your search with these points in mind, you will increase your chances of finding the right partner to help rebrand your company.
How Much Will The Rebranding Process Cost?
What is the cost of rebranding versus the cost of not rebranding? That is the question! Will the potential gains in future business outweigh the costs involved in rebranding? Depending on the size of your company, your existing customer base and the complexity and distribution of your brand, the costs associated with a rebrand can fluctuate dramatically.
Rebranding your business is not just the cost of a new logo and visual identity. If your brand identity is integrated with many components such as a fleet of vehicles, multiple retail locations with signage, uniformed employees or a plethora of pre-printed marketing materials, the costs of rebranding can be high. However, with careful planning and strategic thinking, the process may be adjusted to accommodate these issues in a way that makes the most economical sense for your bottom line. Things like the potential elimination of extraneous printed marketing materials, resourceful signage usage and design or rethinking uniforms can help reduce the total cost of rebranding.
In some instances, brands may not need a complete overhaul so replacing logos and adjusting messaging is enough to get the rebranding job done. In other instances, company-wide education about the brand changes will need to be provided and will have costs associated with it. The rebranding process can be similar to buying a car—there are many different makes and models of cars along with many options to choose from. A rebrand can cost ten to twenty thousand dollars and up depending on the scope of the project.
Next Steps
The rebranding process begins with a conversation, and Trillion is happy to answer any questions you may have. Whether it is about the rebranding process, estimated timeline or costs associated with completing a company rebrand. Give us a call at 908.219.4703 or complete our contact form here. We love what we do and hope to help you bring your brand to new levels of success.