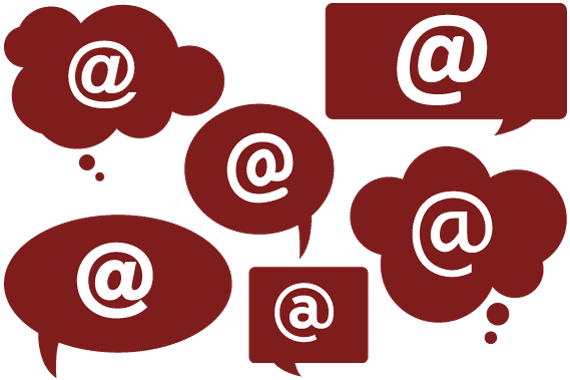 In a world where the average professional is sending and receiving an average of almost 200 emails per business day, you can provide added value to email recipients if you follow these simple, but not so obvious tips. In the process, your company will generate more opportunities and make the lives of your email recipients a little bit easier, too.
Place your signature ABOVE quoted text in replies
You want your recipient to easily locate your full contact information, including your phone numbers. Through your email program settings or preferences, choose to automatically include a signature on each email. Your signature should be placed above the quoted text in your reply email. If you skip this step, some email applications will include your signature at the very bottom of your message chain. This may be too far down for most people to scroll to, especially if the chain of emails is extensive.
Include your phone number in your "Full Name"
The practice of adding your phone number to your "full name" has grown in popularity recently. Now, when a recipient receives an email from you it appears in their inbox as: "Lou Leonardis (908) 219-4703″. Here's how to do it. Just go into your email settings and locate the tab for "Signature," then add your phone number after your "Full Name." Doing this will show your name and number directly in a recipient's inbox and the number will be visible without them even opening the email; including your phone number as part of your "full name" is especially helpful for those who conduct a lot of business over the telephone.
Include a link in the signature
Including a link to your website or social media page within your email is tremendously beneficial for your business and brand. It is a quick and easy way to promote products or services that you are offering or a way to share recent news about your business. Many email programs offer the ability to randomly place an email signature based upon a predetermined bank of signatures.
Do not use Yahoo, Gmail or similar domains for your professional email address
First impressions are important for your brand. The company name should be present in the email address and I don't mean yourcompanyname@yahoo.com. Nothing says "amateur" more than having a business with free email domains. Setting up a custom domain name such as sam@companyname.com will ensure a professional brand image. With proper setup, you can still take advantage of free email services AND utilize your custom domain name.
Do not include logos in your signature
Don't worry that your logo is not in front of your recipients. It's acceptable for it not to be included because sometimes the small logo/image attachments can cause your email to arrive in a spam folder. There is no need to include extraneous artwork attachments to each and every email you're sending. Some users opt to not have images load in their email client, so in some cases it won't be seen anyway.
Include email signature formatting and setup in your brand guidelines
Once your format is established, incorporate it into your brand guidelines so everyone in your company presents a consistent voice to the world. Having a buttoned-down "email brand" for your company makes a good impression and helps build brand awareness and exposure to all email recipients.
Implement these 6 tips into your email account and make your brand more identifiable and easy to interact with. When you consider how many times your brand is exposed to prospects, clients and associates through email, these changes are a no brainer.