Surely you regard your website as a vital asset to your business.
Sounds pretty obvious, right? The problem is that many business owners, and even marketing directors, are not certain of how their website could be more effective for the benefit of their bottom line. The good news is it's never too late to make improvements. Below, I'll reveal some tips to help make your website a more valuable contributor to your brand.
Some of my tips can take as little as 5 minutes to implement. Others are more complex and might require the help of a creative agency like Trillion. My goal with this article is to give you a bunch of ideas that are pretty easy to apply quickly—helping you to work smarter, not harder. Sound good?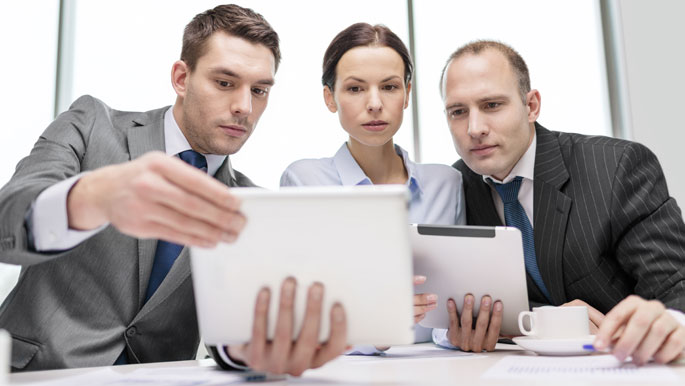 1. You Must be Serious About Your Stuff
I'm going to start with the highest-level item because it is the most honest and straight forward of them all. You must take your brand and website seriously. If you don't, neither will your prospects or customers. A lack of attention to your website means missed opportunities and lost revenue for your business. Create a strategic plan for marketing and stick to it. If you need some guidance, let me know.
2. Add Google Analytics to Your Website
Many businesses do not have an analytics tracking system in place for their website. Approximately 40% of websites do not have any tools to track or report on their website traffic. With the help of Google Analytics, the most popular freemium web analytics service, you can glean a plethora of data from your website including the types of visitors, effectiveness of your web pages, all your key performance indicators (KPIs) and conversion rates and much, much, much more. Google Analytics is free so install it immediately on your website to start revealing the data. Here's how:
To get Google Analytics installed on your website, you need to create a free account here, then copy and paste their supplied line of code with your account number between the <head>…</head> HTML tags of your website. If your website is using WordPress, there are several easy ways of implementing Google Analytics into your site. This process will help get you started in understanding the data analytics that can reveal a lot about your website's performance.


3. What's In It For Me? (WIIFM)
The content on your website is all about your website visitors and their needs, not how great you are. All of your content, including headlines and subheads, should be succinct and answer the question "What's in it for me?" from your prospect's point of view. Discuss the key benefits or ways you solve common challenges for your prospects. Get started with your most important pages first such as your home and about pages.
4. More Meaty Meta Man
Meta data is behind-the-scenes information that is used to relay and display information to search engines. Meta data is often overlooked on many websites, yet done properly it packs some the best bang for the buck.
If you look at any search results within Google, Yahoo, or Bing, you will see the meta title and meta description of the page. (Check out the image below where I point it out for you.) You can control this information and optimize it according to best practices. Currently, Google prefers titles of 55-60 characters or less and a description of less than 160 characters. Make sure all of your pages follow these guidelines. You'll get bonus points for having relevant keywords and key phrases in your meta tags.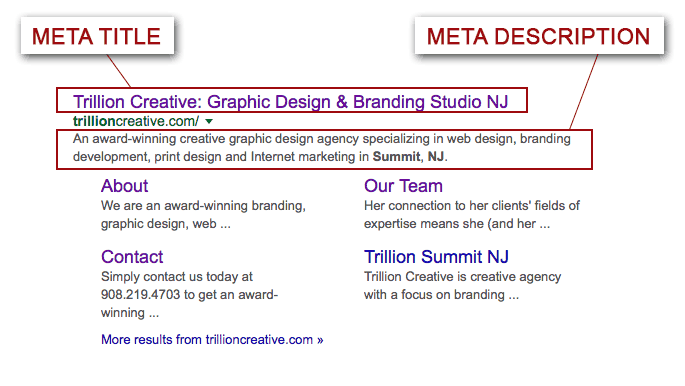 5. People Love to Watch Videos
Video content is the hottest thing right now. With web and cellular bandwidth speeds getting faster and faster, full-screen web videos are becoming commonplace. While Google loves the written word, video can complement text content very nicely. According to WeCapture, 59% of senior executives prefer video content over text. There are lots of statistics that show higher times spent on a web page that features a video compared to those without. Plus, you can repurpose your videos in social media.
6. Large Images Look Great on the Web
Similar to video, and because of enhanced web bandwidth, large images help engage website visitors. It is possible to include high-resolution photos, infographics and diagrams on your website while still maintaining quick page loads. Progressive loading (images appear in stages) and media queries (which help decipher the size of your web browser) also help deliver optimized images quickly without slowing down your web page.
7. Responsive Web Design (RWD)
Have you ever visited a website on your tablet or phone and needed to zoom in and scroll around just to be able to see the text? That website was NOT designed with responsive web design methods. How long did you suffer through it before leaving the website for good? Likely just a few seconds. If you look at your website on your phone and have this problem, it's time to have your website redesigned. It will be money well spent.
Approximately 60% of website designs utilize a responsive framework or responsive web design. This means that the website will adjust its presentation depending on what screen size or device it is being viewed on. All of the websites Trillion is designing are responsive. It's the only way to do it. See the example of how responsive web design works below.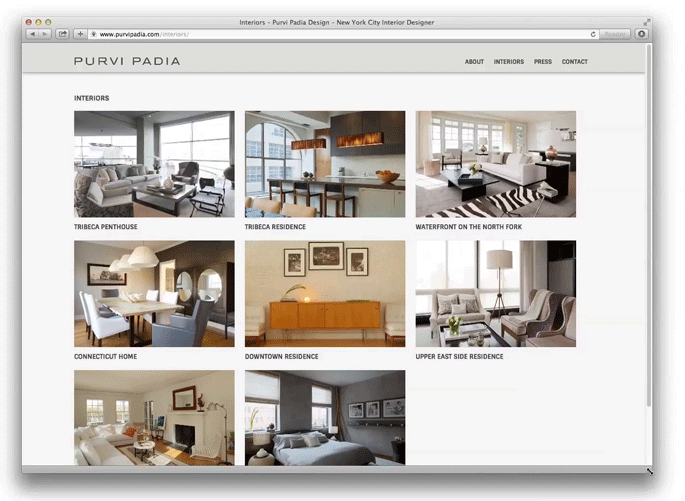 8. Get Your Third-Party Directory Listings in Order
I've been writing about directory listings (such as Google Places or Yelp) for a number of years. Some have seen diminished value but others are critical and a necessity for your brand. Here's why: the listings can link back to your website and add to the quantity of inbound links your site has' a key factor that Google uses to rate the quality of your website. The other benefit is that some third party directory websites may rank higher for key words or key phrases compared to your website. If you can show up in a directory, why not do it? Just make sure all of your information is 100% accurate.
Many directory sites offer a free profile and paid upgrades. Thoroughly complete all of the free profiles and, depending on your industry and the relevancy of the third party directory, you may want to take advantage of the paid upgrade. The upgrades can show your business more prominently, give you additional features, or highlight your business when people are searching their website. Paid upgrades can even feature your business on a competitor's profile page! With your Google Analytics set up correctly, you will be able to see the volume of website traffic being generated from these third-party directories which can help you decide if a paid upgrade is worth the investment.
Trillion is a Premier Website Design Company Located in Summit, NJ
We love designing and building websites that generate positive results for businesses. We work with companies all over the United States. If you have any questions about your website including how it can become juicier and more profitable for your business, just give us a call at 908.219.4703 or complete our simple contact form here.