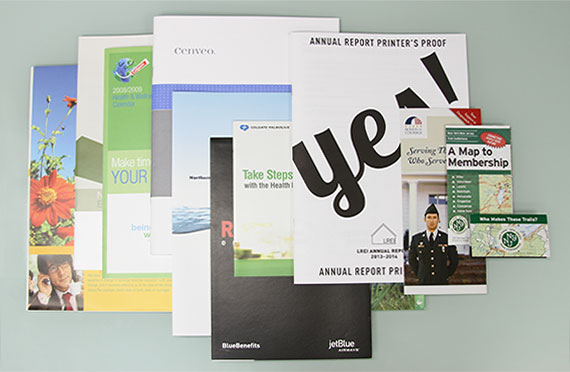 The days where every business had 8.5 x 11 tri-fold brochures ready to distribute are gone in today's marketing world. At least that's what some would have you believe. The fact of the matter is, intelligent thinking and marketing can still utilize the printed brochure as a tool to promote your business – as long as you're willing to accept change in order for them be effective.
Common uses for printed brochures
Printed brochures are utilized as a guide by sales teams to ensure that all major talking points of a product or service are clearly discussed.
A brochure is a simple and inexpensive leave-behind which can help facilitate a sale that could be many times more valuable than the cost of the brochure itself.
Content in the brochure could compel the reader to learn more about your business online; or to provide an offer that is exclusive (and trackable) to the brochure.
Some prospects and customers simply prefer a hard copy and want to read information from a printed brochure instead of a computer screen.
Printed brochures are easily distributed at an event or a face-to-face meeting.
Naturally, if you choose to have a printed brochure designed for your business, it must stand out and be remembered in addition to providing valuable information about your brand, product or service.
Why printed brochures have declined in popularity
When you think about how much digital marketing you see, it becomes pretty clear why so many businesses spend their marketing dollars in that space. So many advances have been made in online media where marketing can be extremely targeted and frequently changed—something that is impossible when printing thousands of brochures and distributing them one by one. Easily updating online content as well as up-to-the-minute e-marketing can yield a big bang for the buck which the printed brochure has had a hard time stacking up against.
Even though advances in offset and digital printing have lowered costs and the required minimum quantities of printed brochures, many standard tri-folds are outdated quickly, go unused or are rarely quantified with a significant return on investment.
Small business owners sometimes turn to printing their brochure on-demand from their in-house laser or inkjet printers. The self-printed brochures meet their immediate need and demand, however, at the expense of appearing unprofessional.
New ways to utilize print brochures
Now we see a trend in finding new formats for the printed brochure. Breaking away from the standard tri-fold format and moving to different sizes such as a single-panel buck-slip or a smaller brochure that opens up several times to become a larger size has become more common. (See our Map to Membership brochure we designed for the New York-New Jersey Trail Conference.) This can be a way to save on printing costs and minimize what a reader has to absorb, or be a way for a reader to more actively engage with your brand. This simplification and engagement also forces the content and design to be absolutely optimized, and savvy marketers will include an offer that is redeemable online or in person.
Another way to utilize print brochures is to take advantage of unique papers, finishes, coatings and even printing methods. All of these tactile options will yield a different reaction when compared to a standard gloss coated paper brochure, and provide an opportunity to make a strong first impression with your brand. We have many brochure design samples at Trillion. If you are interested in seeing how graphic design can make your brochure more memorable and valuable, contact us. You can view some of our brochure design projects here.
With the ever-changing content required to market and promote your business today, brochures can quickly become outdated and wasteful. Streamlining the brochure to include only your core evergreen content (that which does not change very often) will help give your brochure a longer shelf life. Stick with the core branding information that defines who you help, what you do and who you are and you'll never have another stack of outdated, useless brochures sitting in the corner of your office again
No, print brochures are not dead. At least not when they are used intelligently. When it comes time for you to consider producing a printed brochure for your business, give Trillion a call at 908.219.4703. We are happy to discuss your needs and can help you decide if a printed brochure is even the best solution for you. If it's not, we can help you communicate online, too!