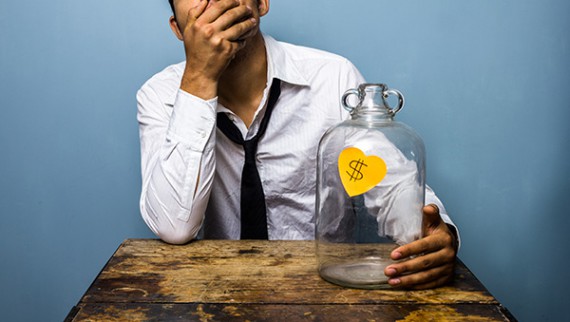 Are you searching for a logo design on the cheap? You're not alone. Many new business owners and entrepreneurs try their darnedest to avoid paying a professional and so they get their logos designed for as little money and as quickly as possible. What's so bad about that? Finding the cheapest price sounds like a logical way to conduct business. But when it comes to logo design, going with the cheapest price could have a huge impact on your future costs and even lead to bankruptcy! Following are a couple of reasons why it just doesn't make sense to skimp out on your business's logo design.
When it comes time to create an identity for your company, a logo is the way to go. Logo designs for companies like Nike, Google and Twitter may have originally cost pennies; but it's rare that hiring the kid down the block or taking a crack at crowdsourcing will deliver an on-point brand mark for your company. Logo design is an art which should be placed in trusted and capable hands—a creative agency such as Trillion, for example.
An award-winning logo designer will start by understanding the brand strategy of the organization. He or she will clearly understand the client's mission, brand personality, target audience(s), and personas. Upon designing the logo, they'll pay close attention to typographic and illustrative details of the letterforms as well as the legibility of the word mark, which makes up the letters of the company name. They do this so the logo can be produced at small sizes and for various applications such as business cards, the web, shirts, pencils, print ads and more. Cheap logo designers can lack the extensive training that an educated graphic designer must go through in order to understand typography and composition, as well as production techniques so logo files reproduce properly and are ready for trademark clearance if you decide to register your name and mark. This ultimately represents your brand in the best light.
The problems with hiring cheap logo designers become apparent pretty quickly. The logos should be scalable and be designed so they can be reproduced in small sizes and unique production methods, including being supplied in alternate digital file formats.
Logo File Formats:
When we design logos for our clients, we will provide several digital formats.
.eps file is vector based art which mean you can enlarge the logo to infinite sizes.
.jpg file is pixel based art which has some limitations. They are used for printing and electronically.
.png and .gif files are exclusively for digital use on websites and screen viewing.
Logo Color Versions:
When you are having a logo designer prepare your brand mark, make sure you are also getting versions of the logo as 1-color, 2-color, black and white, knockout (white only), CMYK (printing) and RGB (web and screen use). By having all of these types of files, it will allow you the greatest flexibility and also provide proof that your logo is flexible enough to accommodate the many unique applications that all brands face.
One of the biggest and most dangerous risks is that of copyright infringement. Imagine you have your cheap logo designed and you apply it to all of your company's marketing materials, uniforms, promotional items and more only to be issued a cease and desist letter for copyright infringement. The internet makes it easy for cheap logo designers to steal the designs of others and pass them off to you as their own. Saving some money upfront could potentially cost you thousands in legal costs down the road; as well as the costs associated with redesigning a new logo and reproducing all of your marketing materials again. That is, of course, if you're able to afford it.
The fact is, cheap logo designers will go MIA to leave you high and dry in a case like this. A warranty of originality, which guarantees work is original and has not been previously published, is what your logo designer should be offering you. Make sure you get it in writing as a way of avoiding a catastrophe that could cripple your company.
Would you like to avoid the common pitfalls of cheap logo design and discuss a professional design instead? Give Trillion a call at 908.219.4703, or use our contact form to explain what you are looking for. We specialize in brand development and love doing it. Don't let what seems like the cheapest solution become what could definitely be your most expensive mistake.