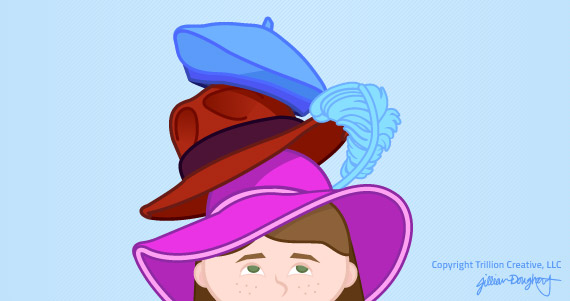 When we discuss search engine optimization (SEO) with our clients, we describe the three very different roles that are required to conduct a successful SEO campaign: one must be or have access to a geek, a writer and a publicist. We realize that in many small and medium-size businesses, one individual, often the business owner, must wear all three hats at once. Which means you would be arguing with yourself, if the headline is to be believed.
Rather than wasting valuable time refereeing your internal selves, consider that SEO is the behind-the-scenes process of making your website receptive to search engines. The goal of SEO is to have your website appear on the first page of search results when a prospect is seeking a product or service related to your business. That's something you all can agree on.
Ultimately, it takes planning, coordination and the expert application of the roles played by the geek, the writer and the publicist for a successful SEO plan to come together. It's crucial to integrate these three areas into your ongoing marketing plan for a long-term SEO strategy.
Learn to be a Geek: Understand code and proper labeling
The "geek" creates the code that identifies and properly names your content on your website so that search engines can read, understand and rank your website. Web designers and developers are most often the people who affectionately get labeled "geeks,".
Geeks contribute to a properly functioning, SEO-friendly website in innumerable ways, including:
Descriptive URL's: A descriptive URL includes keywords that describe what is included in a page, rather than a random assortment of letters or numbers. For example: http://trillioncreative.com/our-work/responsive-brewery-website/ rather than: http://yourwebsitename.com/?post=1283
A Keyword-rich Page Title: The page title is seen at the top of your browser window. This seemingly unimportant line of text is what search engines pull when they display your website in search results.
Metadata: Although search engines are weighting visible page content more significantly nowadays, relevant metadata for each of your web pages is still important. These are a few lines of code in your page that provide a description of the page's content, how the page was made, and keywords related to the page.
Site-map: This is a blueprint of your website that tells search engines what pages exist in your website and how they relate to each other. This can also act as a handy table of contents for your website visitors.
Image Labeling: Although images cannot be understood by search engines, the information associated with them can be a valuable SEO tool. Alternate image descriptions (Alt tags) and descriptive image titles can help search engines understand your image's content. 
Be a Writer: Develop unique content
The "Writer" makes the consistent addition of fresh, unique content to your website a priority. This can be handled either internally at your business or outsourced to an agency that can write thoughtful content on your behalf.
The types of website writing activities that are good for your SEO plan include:
Blogging: The most popular tool for adding new content to your website is blogging. Writing and posting unique content for your website tells search engines that you are providing relevant and up-to-date information in your field. Outside of SEO, blogging is also a great tool for positioning yourself as an industry expert.
Case Studies: Case studies are another great way to add fresh content to your website. A case study describes the client's problem or challenge, the approach you took to solve the problem and the results of your action. Your company may already use case studies to win new business. Adding this content to your website can also help your SEO due to the relevancy of the specified topic and key words.
Portfolio Items: Similar to case studies, this is a great way to share new work and add unique content to your website. The added content repeats the efforts mentioned above.
Be a Publicist:
As a "publicist," it's your job to get your message and expertise linked with other websites and credible news sources that concern your industry and the clients you are trying to serve. Popular blogs, news sites and academic institutions are just a few of the places where you want your business and content to be featured, shared, discussed and, most importantly, linked back to your website.
Social Media: Search engines are continually crawling websites on the internet looking for new information. The ongoing web search includes social networks such as Twitter, Facebook, LinkedIn and Google+. By sharing your content on these social networks, you are increasing the likelihood that your website will show in search results.
Press Releases: A press release is a more traditional form of PR but its impact online can be significant. If you have news to share about your business, drafting a press release and publishing it on a news wire can lead to it being picked up by external news sources and editors.
Associations & Directories: Are you a member of an industry organization or association? There may be opportunities for your business to be included on their website with a valuable link going back to your website. In a similar vein, there are many different types of business directories where you can create a profile for your business for free, such as Yelp, Google Places, Angie's List and Yellow Pages. Adding your business to these types of directories increases your chances of being found online and provides a link back to your website. 
Guest Blogging: As a guest blogger, you are posting unique content on someone else's website. If their website is popular, you'll benefit from receiving a link back to your website as well as reaching a larger audience of people who may not be familiar with your work. 
Excited to get started?
The first step in developing a proper SEO strategy is understanding what's required when wearing these three hats, and then integrating these processes into your daily, weekly and monthly marketing initiatives. Do you need help developing an SEO strategy for your business? Trillion can help. Use our contact form here or call us at 908.219.4703.