If a room full of restaurant owners is asked: "What is your brand?" you will likely get many different answers.
A restaurant's brand is definitely not just the logo. It's not the colors and it's not the pretty pictures hanging on the walls. In fact, your restaurant's brand represents the entire experience.
Great restaurant branding will:
Reinforce your unique value proposition; what makes your restaurant different and special.
Build trust with your customers that they will have a consistently enjoyable restaurant experience.
Unify multi-unit locations.
According to the National Restaurant Association, 30% of new restaurants fail in the first year, and of those that survive, another 30% close in the next two years. In places like New York City, where the competition is extremely high and rent is expensive, the failure rate of restaurants has been reported to be as high as 80%!
Branding is about setting your restaurant apart from competitors while connecting with your customers. It tells your customers what they can expect and why.
What are the elements that form a restaurant brand?
At Trillion, we divide a restaurant's brand into two distinct components: design and experience. The elements listed below are all vital in the creation of a restaurant's brand and in its eventual success.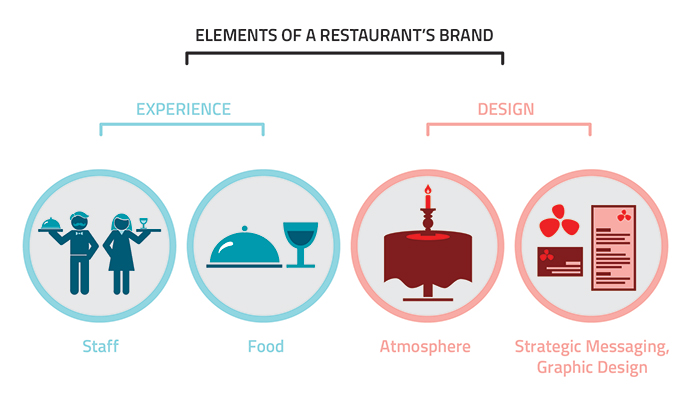 The Design component includes:
Strategic Messaging: Your unique value proposition, your story and your social media persona.
Graphic Design: Your logo, your signage, your packaging, your menus and your restaurant's website.
Atmosphere: The architecture of the space, the decor and the ambiance.
Photography: Images of your restaurant's interior, appetizers, entrees and desserts as well as images of special events which are used in your print and digital marketing materials.
The Experience component includes:
Food: Your recipes, the cuisine and the presentation.
Staff: The level of customer service they provide, how they speak to your customers, their uniform and how they present themselves.
What is involved with the restaurant brand development and design process?
Below I've outlined Trillion's four-step process that we use when branding a restaurant:
Conduct Research: We visit local and regional competitors, understand the restaurant's neighborhood, interview potential patrons, and identify opportunities that can set you apart.
Develop a Strategy: Once the research is completed and analyzed, we develop your positioning. Your positioning articulates what your restaurant stands for, who will be your target patrons and how you will be unique from other restaurant brands.
Design Your Look: Based on your strategy, a name for your restaurant is created, your logo designed, your verbal and visual identities are established.
Create Marketing Materials: This includes signage, uniforms, menus, packaging, website and social media presence.
Are you ready to place your order?
If you need help with branding your restaurant, Trillion can assist you. Our team has designed and built an extensive restaurant branding portfolio. We have helped restauranteurs create a competitive advantage for their businesses. Want to talk more about your restaurant? Call Trillion at 908.219.4703 or complete our simple contact form here.
At New York City's Business Solutions webinar series titled "Meet the Restaurant Experts," I was invited to speak about the importance of branding for restaurants. I walked participants through what a brand is and what elements form a brand. Specializing in branding restaurants for nearly 15 years, I have a certain wealth of experience to offer which can be most beneficial to new restaurant owners looking to build their brands. If you are interested in learning more, give me a call at 908.219.4703.