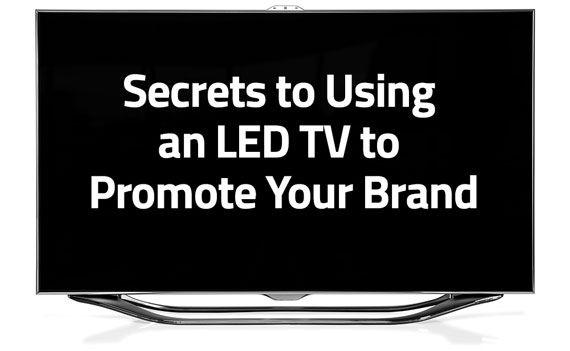 Using a LED TV to help promote your brand can prove to yield a big bang for the buck because of the impact it can have on your customers and prospects. The screen's brightness, resolution and low energy consumption make LED's a great choice to display your brand's messaging.
Several years ago a real estate brand asked us to design and build an animated and editable display for their store front windows. Several large screen monitors, they thought, would show their latest products and services and inform potential buyers about the inventory available and how this client's business was different. At the time, having LED screens wasn't cost effective. The equipment was expensive, it was resource intensive because it needed a computer to run effectively, and it was just too big an endeavor for a smaller business to take on.
The good news is: owning and operating these high resolution mini-billboards is much more affordable today. The ability to create artwork for the LED TVs and distribute it on a smaller scale is very realistic.
Recently, one of our clients wanted to include LED TVs as part of their trade show booth design. With the price of LED TVs lower than ever and the TVs more advanced than ever, it is easier and more affordable to have these devices flaunting your brand's latest products or services. The weight and thickness of them has also been reduced so traveling with them or shipping them is easier, as well. Besides being lighter in weight and thinner, LED TVs offer better color spectrum and accuracy, and use much less energy than their LCD TV predecessors. Selecting the proper size of TV will depend upon its use and how far away the viewer will be.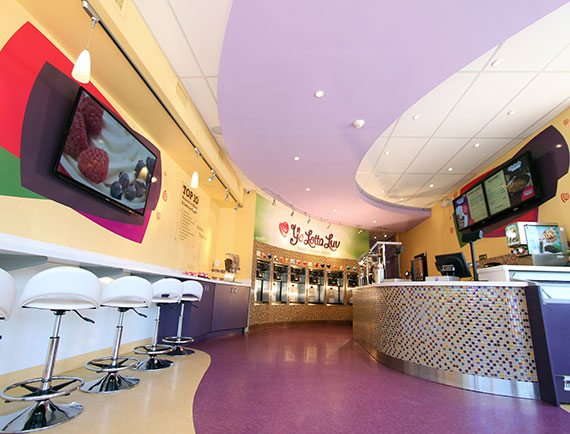 Using LED TVs in Retail
Retailers can use LED TVs to help promote their brands. Digital signage can be utilized to enhance the customer experience in a big way because of the impact video and motion graphics can have on the buying process. Having multiple, large TVs is not such a costly endeavor anymore and adds to the environment of a store or even the reception area of a retail business. The TVs can also be integrated into the POS system. You see this kind of application a lot in the fast food sector with the use of animated menu boards; where branded graphics are utilized to promote the brand's products.
Using LED TVs in Trade Show Environments
Many businesses opt to include TV displays as a part of their trade show booth design. Some utilize them better than others in their placement, integration with the booth and the quality of brand content. Modern stands and mounting hardware have also made the display and assembly processes much easier.
Installing the TV(s) Into Your Space
The impact LED TVs can have for your retail store or your brand at a trade show is huge, but getting the TVs set up correctly requires planning. At Trillion, we work in tandem with architects and IT professionals in order to create appropriate set-ups for the displays. Ask us if you need help or recommendations.
Today's LED TVs Offer More Functionality Than Ever Before
Here are a few secrets that you may not be aware of when it comes to utilizing an LED TV to help promote your brand:
Plug into the USB port
Most LED TVs have a USB port into which a flash drive is inserted. This port can allow video and imagery to be displayed on the TV just by accessing the flash drive through the TV's settings. It is a simple way to create a slide show of brand messaging and imagery to play on the TVs. Some TVs even allow you to control the type of transitions and timing of each "slide." As a tip, if you decide to show photos, optimize them for the dimensions of the screen. Most high-definition TVs have a resolution of 1920×1080 pixels so all of your photos should be that exact size or at least in 16:9 proportion. Mixing vertical and horizontal images appears amateurish and will reflect poorly on your brand so keep them consistent (landscape is best).
The USB port can also make it easier to play video files. There's no need to lug a DVD player or an additional computer to run it. Take a look at a looping video above which we created for Yo Lotta Luv, a frozen yogurt emporium located in Chatham, NJ. An MP4 file was uploaded onto a USB flash drive which was inserted into a port on the back of the TV. We were able to loop the video through the TV's settings so that it can play all day long in their store. MPEG files are also widely supported by the newer TVs as are JPG files. The same thing can be applied to a TV in a trade show booth for hours of looped messaging and visual content.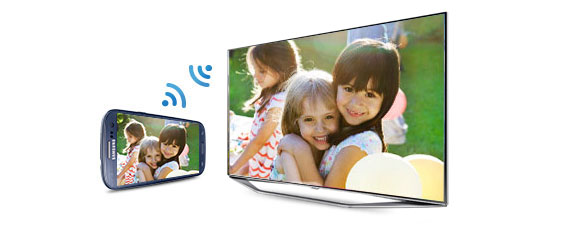 Utilize Screen Mirroring
Some TV's such as the Samsung H7150 Series have the wireless ability to mirror the screens of tablets and other compatible mobile devices onto the TV's screen. This feature, available through other manufacturer as well, allows you to use your LED TV screen instead of your devices smaller screen for showing content, media playback and more. That's pretty cool!
Control Several TVs at Once
If you want to display multiple LED TVs at your store or trade show booth, you may need a small computer to do so. For around $499 for a basic Mac Mini you can power more than one LED TV at a time. Software on the computer can play video or present a slide show on multiple video displays, including TVs via an HDMI cable or a standard VGA cable connector.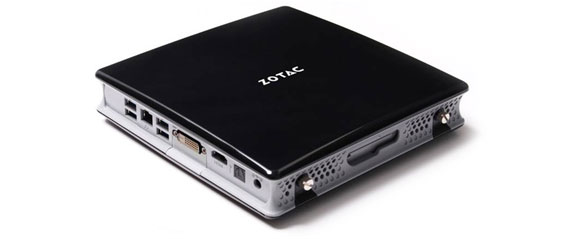 An alternative to purchasing a Mac Mini would be to have a ZBOX, or mini-pc computer built for it. These computers can be as small as 4- or 5-inches square and only an inch or so thick, and utilize an open-source operating system such as Ubuntu to power them. The mini-pc can be mounted to the back of the LED TV with ease so it stays out of the way and is invisible to your customers. The price tag starts at less than $200.
In addition to the Mac and PC options, there are proprietary software/hardware devices that can be used for both small and large applications. These devices can start in the several hundred dollar range and quickly go into the thousands depending upon the complexity and number of displays it will control.
Get the LED On!
Take really smart graphic design, optimized branded visuals, on-point messaging and organize them for an LED TV display for a powerful communications tool that will set you apart from competitors.
Isn't it time you stepped up to the big screen? If you would like to learn more contact Trillion or give us a call at 908.219.4703. Building and managing brands is what we do best, and utilizing video displays is just a small, but important, branding tool that we highly recommend you use in your store or trade show booth design.