Think about your family's last meal. Think about how much the meal cost you. Think about the amount of time or effort it took you to earn enough money for that meal. I say this because I was guilty of taking my family's most recent meal for granted while so many around us struggle to put food on the table for theirs.
I was guilty of taking my family's most recent meal for granted.
It is important to give back and lead by example. So every year, we invite all of our creative team members and some close friends to participate in our "Annual Day of Service." We look for meaningful ways to help our community by volunteering.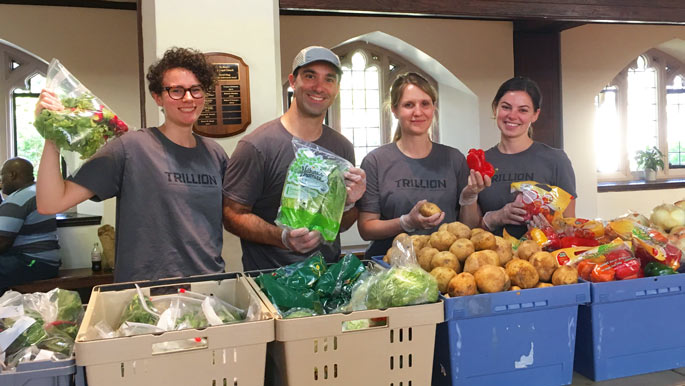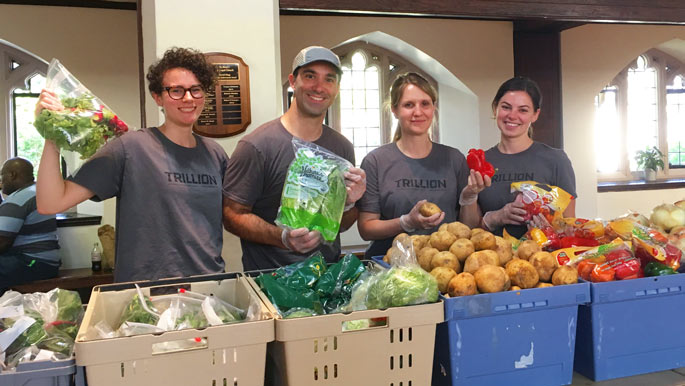 This June, Trillion volunteered our time to help distribute free food for Community Soup Kitchen and Outreach Center in Morristown, NJ. We helped organize and set up a "farmer's market" for people who may not have the means to purchase fresh fruit, produce, poultry, meat and other foods. Many women with young children come each week to pick up the fresh items to cook healthy meals for their families.
Nearly 500,000 pounds of food would be wasted each year without the Community Soup Kitchen and Outreach Center's efforts.
The Community Soup Kitchen and Outreach Center also provides nutritious meals in a warm, safe and caring environment, free of charge, no questions asked, to anyone who comes seeking nourishment. Nearly 500,000 pounds of food each year are provided by a generous grant from the Fannie E. Rippel Foundation, and rescued produce from Trader Joes, Whole Foods, Stop & Shop, and local farms.
Jillian Dougherty, a senior graphic designer at Trillion said, "Seeing the quantity of fresh, nutritious food that might otherwise have been carelessly disposed of was really remarkable – the best part, though, was witnessing the profound impact it had on the young families who came in that afternoon."
Think about this too: if nobody eats the 500,000 pounds of food, it will go to waste — then another 500,000 pounds of food would need to be produced to replace it for people to consume.
The program is a win-win for many and transfers an overstock of food that will not be sold fast enough and gets into the mouths of those who need it.
The staff and team of volunteers at Community Soup Kitchen and Outreach Center were warm and welcoming. The operation was very well organized and other volunteers were also present to help. We organized the food so families could easily select what they wanted.
"I'm grateful I saw another part of the community Trillion serves. I'm humbled that I got to spend an afternoon helping provide nutritious ingredients to families in need," said Jess Minzner, a junior graphic designer at Trillion.
As a creative agency that designs a lot of not-for-profit creative, our studio's goal is always to be good local and global citizens who care about our community and the environment. For example, our studio has developed a niche working with environmental conservation organizations whose mission is to protect and conserve the environment such as the NY-NJ Trail Conference, New York League of Conservation Voters and the New Mexico Wildlife Federation. We love the fact that we were able to participate in another local effort that contributes toward a more sustainable world.
In the past Trillion has helped prepare pre-packaged meals from raw ingredients for starving people in need. We have also volunteered grunt labor by cleaning up trash and recyclables that littered a Summit, NJ park.
For more information about Community Soup Kitchen and Outreach Center, visit http://www.cskmorristown.org. If you are interested in participating in Trillion's next day of service, please let us know. We'd love to have you!