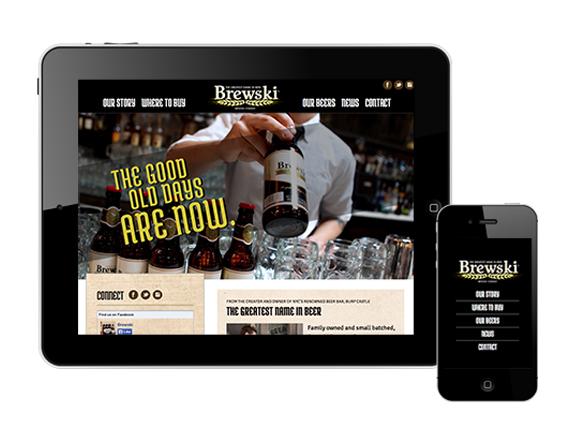 When you consider the enormous growth in mobile devices and how they are quickly surpassing the desktop computer as the preferred gateway to the web, it's pretty clear that any website that's been designed to be viewed just on a desktop computer simply won't cut it.
That's where Responsive Web Design (RWD) comes in. A responsive website automatically adjusts the layout of its content to fit all the different screen sizes that today's smartphones and tablets offer. With a responsive site, your content will become more easily navigable and user-friendly for your site's visitors, providing a great experience and increasing the likelihood that your customers will look more favorably upon your business and your brand. It's an important business decision that can affect your bottom line.
A responsive website automatically detects the screen size of the computer, tablet or phone and ensures easy reading and navigation without resizing or zooming. Responsive websites typically present simplified content to phone users so they can easily view and navigate on the smaller screen size and the content is focused for users on-the-go. Buttons and links on the small mobile devices need to be large enough for a user's finger to select them.
Here is an example of how a responsive web page adjusts depending on the screen size:


Benefits of Responsive Web Design:
Content size is optimized for specific devices viewing the website
No zooming needed to read text on phones and tablets
No need to maintain a separate mobile website
Improved user experience for visitors of your website
Preferred page ranking for mobile searches
Consistent, dual access to social media platforms whether you are on a phone or laptop (website URLs are the same)
Retail businesses were once the prime candidates for having a responsive website due to customers trying to locate their store while in transit, but things have changed with the explosion in popularity of mobile device sales. At Trillion, we have made a commitment to create only responsive websites. "More and more people are using tablets and mobile devices as their primary way of accessing the web, so responsive web design is an essential element for a brand," says Larissa Montecuollo, Partner at Trillion. "If your website is not optimized for mobile devices, most visitors will never return to your website."
Click below to see examples of responsive websites that Trillion has designed
Creating a responsive website can be tricky. The process adds some time to a website redesign and they cost more but the benefit to your clients makes it worth the added investment. Let's face it, it's hard enough to get visitors to your website, so why risk turning them away with a website that isn't optimized for their tablets and mobile devices? With over 87 million people in the United States now utilizing a mobile device as their primary way of accessing the internet, it's plain to see that fixed-width websites have become a thing of the past.
If you're wondering how you can take advantage of the far-reaching benefits offered by a responsive website design, contact us or call 908.219.4703. We'll be happy to discuss more details with you.