If you are searching for a branding company to create or redesign your organization's brand, the request for proposal process, or RFP, is commonly a first step. An RFP is essentially announcing a job to graphic designers or graphic design firms and asking for a response.
I'm here today to help you create an RFP that will return thorough proposals by the most qualified branding companies which can help brand or rebrand your company. The purpose of the RFP process is to help you identify the most appropriate and relevant branding experts to handle your assignment. From there, you select the best branding team to help take your company to the next level.
…create interest in your project while clearly expressing your problems and goals.
The Trillion team has been helping to brand and rebrand companies and nonprofit organizations for many years. Our award-winning team is approached with RFPs regularly. If your RFP document is not carefully crafted, it will be disregarded and ignored by a lot of reputable creative teams. The challenge for a marketing director or C-suite executive is to create interest in your project while clearly expressing your problems and goals.
One thing to remember is that the process of responding to an RFP is time consuming for branding companies. You will see a low response rate to your project if they do not feel like they have a good chance of winning it. In most RFP opportunities, branding companies like to have a connection to the decision maker. They also want to feel like the project requirements are clearly reflecting their capabilities, portfolio and organizational set-up. The RFP should only encourage qualified experts.
The RFP should only encourage qualified experts.
Here are the top things that you should be including in your branding RFP:
Provide Your Company Background
Providing a high-level overview of your company and its history is important to help the branding companies understand more about your business. Talk about your "perceived" mission, vision and value proposition statements. I say "perceived" because you may be a start-up and need these defined, or you are rebranding because they are no longer relevant. Either way, be as descriptive as possible in saying who you are, what you do, who you help, and how you help.
Define Your Problem or Challenge
Sometimes a brand can have internal or external issues—or both. Clearly define the challenges and issues your company is having. An example could be inconsistent messaging from business unit to business unit, or the fact that your brand is perceived as dated or irrelevant in the current marketplace. Explain the immediate problems as well as potential long-term problems that you foresee. Frequently, the branding and rebranding process will reveal unrecognized issues that will need to be solved by the branding team.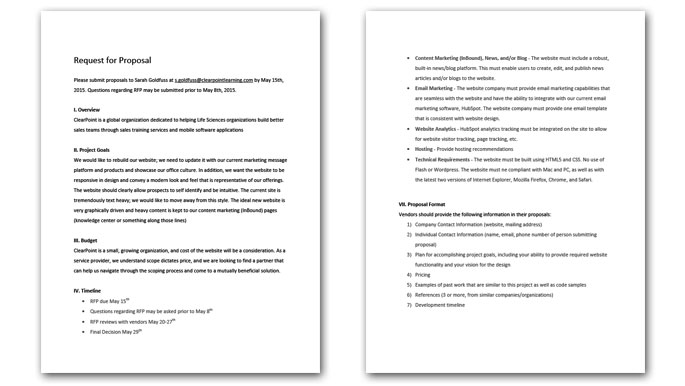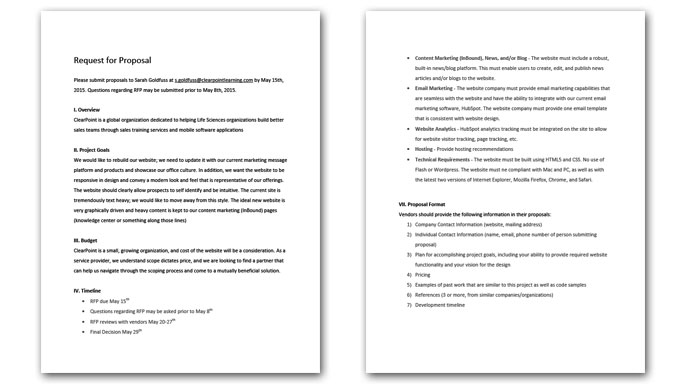 Define the Scope of the Project
Clearly list specific deliverables you require, such as:
conduct research (such as interviews, focus groups, surveys)
audit existing brand and marketing materials
define user personas
create an online brand guideline
design specific marketing collateral
You will want to identify the volume of content, number of applications, quantity of interviews or any other specifics the branding company should consider. Conversely, you can have the branding company define the scope as they see it as part of the RFP.
If you are unclear about the project scope, or need help defining it, please specify your expectations by requesting a discovery phase with the graphic design firm with minimum requirements noted, such the a number of meetings or research that will be shared. Then list what you expect the designers to have learned from the discovery phase.
Define Your Ideal Candidate
Stating that you want to work with a team that is based within a specific geographic location or is of a certain size is common. You may want to require that all team members be employees of the branding company and not consultants or freelancers. You can also list your preferences for experience if that is important to you.
Define Your Selection Criteria
Defining how and when you will select finalists and the eventual winner of the bid is critical. Are you most interested in a branding studio's portfolio? Relevant work samples? Or is price the most important deciding factor? Defining the key factors will help ensure that your expectations are met.
…we recommend requiring relevant samples of branding projects the branding company has completed.
Additionally, we recommend requiring relevant samples of branding projects the branding company has completed. This basic request will show you the caliber of work they do as well as provide an opportunity to hear and see their process, as well as their success stories.

List Your RFP Process and Timeline
In order to compare branding proposals more effectively, it's important to define how you want their proposals submitted to you. You may also require a specific outline format in addition to any naming conventions they are to follow.
Clearly state how the finished proposals should be submitted to you and their due date. Is email accepted? Does the file format need to be a PDF? Do you have file size limitations? Do you have a maximum number of pages?
It goes without saying that there will be questions. You should have specific protocols for incoming questions and the deadline for receiving them. In order to prevent you from answering the same questions over and over, it is a good idea to include a weblink where you can post applicant questions and your answers. Your website or Google Docs are great places for this.
Discuss Your Branding or Rebranding Budget
If you are able to clearly define the scope of the project, deliverables, timeline and requirements, you may be in a good place to define budgetary range. This range can help prevent wide pricing variations.
Pose Questions for the Branding Company to Answer
Asking questions you may ask of your prospective branding company partner will help you gain insights into their thinking and culture and how it can relate back to your business. How the questions are answered can be helpful in the selection process.
The following are questions you should have your branding agency answer in addition to having them provide a company overview and their accreditations:
What is your branding/rebranding process?
Why do you think you are the best branding company for the project?
Tell us about your leadership and creative team members.
What makes you different from your competitors?
Which of your team members will be doing the work?
Searching for the Best Branding Agency?
You need a branding team with the talent and expertise to plan and implement the new look and feel of your company. When properly executed, the RFP process can prove to be a savior for those businesses who don't know where to turn for the best branding agency – whether for a single project or a large branding endeavor. If you would like to learn more about Trillion's branding process and how it can work for your company, give us a call at 908.219.4703 or complete our contact form here.